Putra World Trade Centre a.k.a. PWTC, undeniably, is a familiar landmark to every Malaysian, especially those KLites, like us. Previously, the reasons for me to go there were never out of those PC fairs, Edu fairs, or Malta Tour fairs, but, 15 September 2006, these remarkable day totally broke my history… Ohhya~~~ a little bit of advertisement: HAPPY TO MY DEAR FRIEND WHO STRUGGLING FOR HIS AMBITION IN THE CITY OF LION, BOON MING, sorry for my belated birthday greeting, trueheartedly wished you may all your dreams come true…. Ok, back to my story… the weather of KL on 15 September was pretty good, not that warm as normal time, but at PWTC, the peaceful climate of there have a bit changed. That time, I was there…
Frankly, this was my first time I did those 'illegal' thing, quoted a police officer's word: "Tindakan you semua memang salah!!!" Anyway, I can tell you guys honestly, I will never regret for those so called 'guilt' that I did last Friday. I certainly know that this action is risky and would probably bring me into loads of troublesome, fortunately, it haven't happen yet…
Before moving to PWTC, my heart have achieved a record-breaking high beat rate, I tried to calm myself down and think deeply and comprehensively whether my next step would be correct or not. Honestly, that time I really worried the Tiananmen tragedy would happen on me; squelched until become a pizza by tanks, blood was splashed to everywhere like chili sauces….. I was scared!!! But, at the same time, in somewhere deep corner of my heart, I saw my great shadows occurred, they are Dr. Sun Yatsen, Mahatma Gandhi, Nelson Mandela etc etc. Indistinctly, I heard they are saying something, LIBERTY, DEMOCRACY and JUSTICE…. I was enlightened…
I followed my few seniors of UMANY (UM Association of New Youth), they are very kind, helpful, knowledgeable and full of just and righteous as well, and treat me well since I am the youngest among them. Some of them are veterans of UM Chinese debate team who have made a lot of reputation on stage. We reached the mall at about 3, then attended an gathering at the food court. Wow, there were approximately 100 over students sitting there, mostly Malay. Although everyone came from different race and creed, for certain, that time we were having a same goal, a same ambition….
Later, a big group of Chinese students came, they came from UPM, they are UPM Chinese language society a.k.a. Bo Hua 博华, this society is being viewed as 'terrorists' and highly suppressed by UPM campus authority. Please support their struggle!!! Finally, everyone came and started our 'long' march to PWTC. OK, now I tell our mission, that is DEMANDING FREE AND FAIR CAMPUS ELECTION and ABOLISH THE UUCA a.k.a. AUKU (universities and universities-colleges act 大专法令).
One thing that I have to clarify first, we were not going to protest against the government in violent way, but peaceful demanding 和平请愿, and sending our memorandum to our dear Tok Pa, the higher education minister, Mustapa who was having his meeting inside the building. We are mahasiswa, the future pillar of the society, we are definitely not just a learning machine that care nothing of our chaotic society. We not shouted just for show or merely want to make our appearances in media, we were there because we want our deserved basic human right that seize by our beloved campus authority. We still have a lot of assignment yet to be done, but if compared to Free and Fair, it is nothing!!!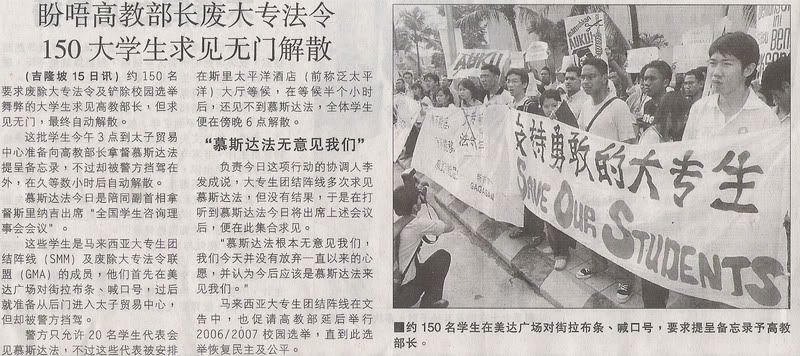 I was inside...

The peaceful gathering was held by Solidariti Mahasiswa Malaysia a.k.a. SMM 大专生团结阵线, supported by Malaysian Youth and Student Democratic Movement a.k.a. DEMA 学生与青年民主运动, UM Islamic student association a.k.a. PMIUM, Gerakan Mansuh AUKU, SPF etc etc, they are students of UM, UPM, USM, UTM and even some came over the sea, from Sabah. Of cause, in this kind of circumstances, policemen would not be found lacking. Luckily, I didn't see any tank and army forces.
Our purpose of peaceful gathering was to seek a dialogue with Mustapa on retifying the malpractices and abuses of previous campus election. We know Tok Pa was in his meeting, so we just waited patiently……… 1 hour later…….. Then, we are permitted to send 20 representatives to meet him, ok all of them entered…..
2 hours later…..
3 hours later…..
Our representatives returned peacefully, we eagerly wanted to know the answer, but sadly, there was NEGATIVE. More appropriate to say that was Tok Pa refuse to meet his student!!! Anyhow, the result was predicted, because we are the 'non-registered'. It failed eventually, but it doesn't matter because father of China, Dr. Sun Yatsen succeed his revolution in 11th attempt.
Next week, Sept 21 is polling day for the 2006/2007 campus elections which will be held simultaneously at all public universities, so my dear friends who studying in public universities, for the sake of liberty, democracy and justice, please use your ballot wisely, say NO to those puppet of campus authority!!! If you guys are threatened to vote somebody, you have the right to make a report to police, since we are living in a democratic society…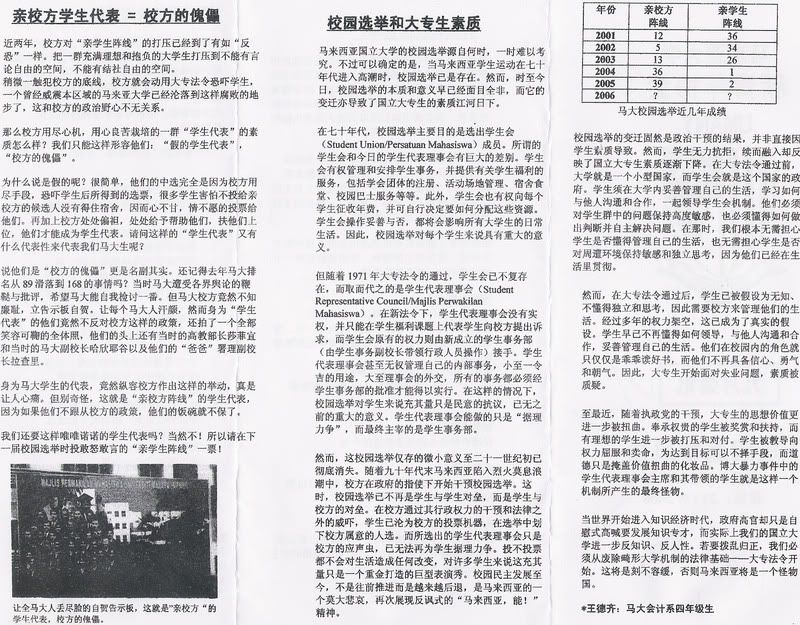 Guys, please read this!!!